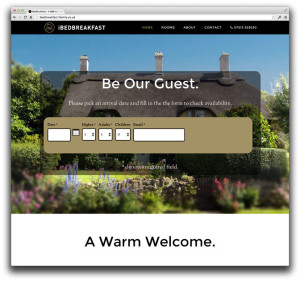 We would like to introduce a new B&B website package for lodging providers, iBedBreakfast. An affordable responsive website, customised to suit your accommodation, including colours and your logo, installed and hooked up to your social media connections.
B&B Website Features
This B&B website features an availability checker, parallax images on the home page, testimonials, gallery and room support. The iBedBreakfast package will welcome new guests to your establishment and make them feel at home, whatever browser they use. Desktop, laptop, iPad or iPhone, it will work, and it will make it super-easy to enquire and call.
Powered by WordPress
WordPress makes it easy for the owner to change content, create blog posts, add pages and much more. Using the Genesis Framework this WordPress install will be fast, secure and easy to maintain. WordPress is by far the world's most popular Content Management System. The package includes the full installation, configuration, optimisation and customisation. We will upload all of your images and text. We can have your brand new website up and running in days.
Be Found
The design has been built from the ground-up to be search engine friendly. As part of the package we will optimise your content to make it shine on the search engines.
Be Our Guest
You can read about the design and development process, take the demo site for a spin and examine the features and sign up to learn more about this exclusive design from iFamily.
Demo Features, Pricing & Signup The Design