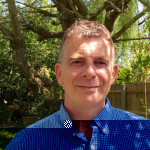 Blessed with a fantastic face for radio, and the ideal speaking voice for silent movies, I prefer to communicate with my fingers. Tapping away on my computer keyboard or guitar fretboard, I am a happy man. This explains my Twitter handle. But therein lies the problem. I need to get out more. To communicate and mix with real people. Face to face. To step out into the spotlight and prove I am something more than a digital entity. Yes, I am human. Just like you, unless you are a web bot scraping the source code of this web site of course.
The UK Genesis Podcast
So, when asked if I wanted to appear on the UK Genesis Podcast, I was one part thrilled, two parts nervous. I am a big fan of the fortnightly show. Which features UK web professionals who use the Genesis Framework for WordPress. Some of my favourite people from the Genesis Community have appeared on there. I am a big fan.
The UK Genesis Podcast
It's showtime
July 1st at 2pm, we went live. Hosted by Gary Jones with Jo Waltham, there was no turning back now. Well, I muddled through. Trying to explain what I do for a living with a tongue tied up tighter than the laces of a Doctor Marten boot. Luckily for me Gary and Jo were kind. They didn't give me a good virtual kicking.
Nor did they burst out laughing when I gave up trying to pronounce Matt Mullenweg's surname. My youngest daughter would describe this as "tots awk". Hugh Grant has nothing on me for stuttering English cringe-worthy moments. What made it even more painful was a few days earlier, Mr. Mullenweg had even favourited one of my tweets. Which I share here, just in case he meant to favourite someone else.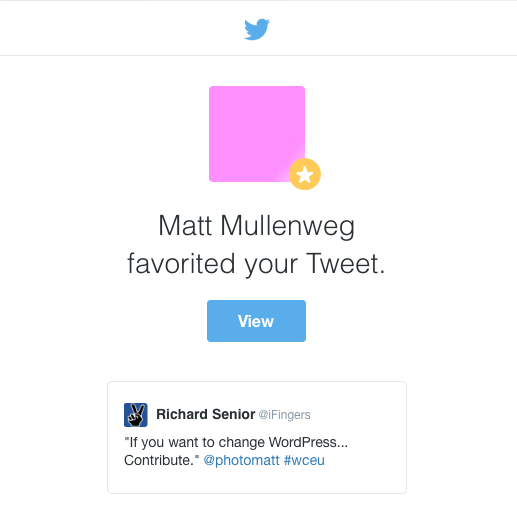 Bored?
If you have nothing to do for the next hour, then please check out Episode #11 of the podcast. Some might say, it beats watching grass grow or paint dry for entertainment value. Or better still, you could watch any of the other episodes. I recommend subscribing if you are a WordPress or Genesis designer or developer. It's a great show, normally.
Richard Senior, Episode #11
Show Notes and Honourable Mentions
If you've watched the show. Well done. Have a drink on me. You deserve it. Also here are some of the tools of my trade and other favourite people or things that I tried to, or meant to, mention while we were on air:
WordPress Bournemouth– a new Meetup group for the good people of Bournemouth which I am getting started with the help of WordPress.org
iChimes – The WooCommerce powered WordPress site run by iFamily
James Roberts – for nominating me to do the podcast – the b******d!
Mike Little – who I hoped would be shown on a forthcoming episode of the podcast. If you don't know who Mike is, he co-founded WordPress with Matt Mullenweg!
Dave Dean – aka WP Musketeer who would I'm sure be a dashing interviewee
Robin Christopherson – who I heard talk at Altitude a few years back and showed me just how inclusive technology can be, when designed for accessibility from the start
Mik Scarlet – who gave a short talk at a recent WordPress London Meetup, explaining how accessibility could be a good niche and possibly a good earner in the UK especially for web developers
Rian Rietveld – for welcoming me on the WordPress Accessible team, even though my own website had more title's than Muhammed Ali
Make WordPress Accessible – you too can help make WordPress better, for everybody
Designing with Web Standards – Jeffrey Zeldman's book that helped change the way we all code websites
Coda – my editor of choice. Made by the good people that make Transmit, coincidently my favourite FTP client.
MAMP Pro – rock solid local development environment
CodeKit – for SASS magic
DesktopServer – my new local development setup
Photoshop – rocking the vintage CS3 version which is still hanging together
Tower – for those that prefer a bit of GUI with their Git
Unfinished Business – Andy Clarke's superb podcast on the business end of web design
Evernote – because I have the memory of a gold fish
Moleskine Notebooks – because I have the memory of a gold fish. Plus I like to sketch out wireframes and designs
Hemingway – for helping me write Ernestly, did you see what I did there?
XScope – for on screen rulers and guides
Content Insight – content audit tool
FreeAgent – for invoicing and book keeping. If you click on this link and sign up, you and me both get 10% off, for life