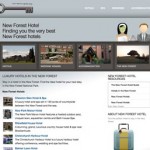 Trawling through the many different types of New Forest based accommodation websites, I decided that there is space for something a little different. New Forest Hotel was designed to offer the visitor some carefully chosen hotels in the New Forest National Park. There are some beautiful hotels in the area including: Chewton Glen, Careys Manor, Rhinefield House and the newly created Lime Wood. New-Forest-Hotel.com is still being developed but the plan is to show only the finest New Forest Hotels.
In terms of construction this is as simple as it gets, html5 with very few bells and whistles, but I think on this occasion this is the right way forward.
Welcome to the iFamily, New Forest Hotel!