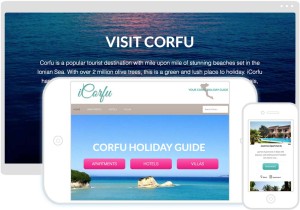 iCorfu, find and rent Corfu apartments, hotels and villas. A brand new website design created to showcase the accommodation available to book on the island of Corfu, Greece. It also is a guide to the many beautiful resorts available on the second largest of the Ionian Sea islands, Corfu.
Find and Rent Corfu Apartments, Hotels & Villas
Built using the Genesis Framework and powered by WordPress, iCorfu is a responsive website design and very adaptable to many different devices. Using custom post types, taxonomies and categories designed as part of the initial content strategy work means that visitors can quickly browse for their desired accommodation type, such as apartment or hotel and also filter down to accommodation with Free Wi-Fi or near the beach.
The design needed to be easy to use, and adapt to a wide range of accommodation and allow for searching for accommodation as well as by area. Google maps are used to show where the accommodation is in the resort and show other local accommodation. Schema.org markup was used to categorise the accommodation also. Font Awesome support was built in to help make each facility stand out.
iCorfu is a sister website to iZante, another holiday accommodation guide.