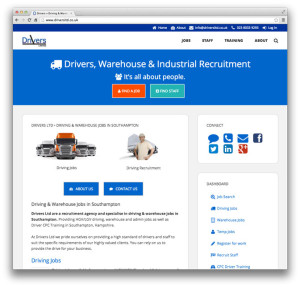 Drivers Ltd approached us to create a new website for their driving and warehouse recruitment agency in Southampton. Their old website was not easy for them to update and they were keen to make their online presence reflect their exacting standards plus make it more interactive and useful for both their clients and staff.
Since 1983 Drivers have been Southampton's leading driver recruitment agency. Their principles and excellence have earned the respect of professional drivers as well their clients, many of which are household names. We are delighted to able to add their new website to our work portfolio.
To get to know Drivers and discover how they would benefit most from a new website we did some interviews with their staff. We also looked at some of their competition and found some noticeable holes in the market which we felt Drivers would benefit from.
As well as driving and warehouse staff recruitment, Drivers provide JAUPT approved CPC periodic training training courses. They run these training courses from their Southampton office and on-site.
So the key goals and objectives of the web development were:
Develop a content management system (CMS) so that they could easily update their content.
Replace the table-based layout with a modern responsive, mobile and tablet friendly HTML5 design.
The website needed to be fast, which is important for not only SEO but just as importantly to give their clients and driving staff a nice online experience.
To allow them to publish new jobs quickly and easily.
To encourage new driving, warehouse and industrial staff to register for work.
To help prospective clients find Drivers.
To allow registered drivers to post time sheets, update their profile, status and work availability.
To publish dates and times of their CPC training courses and allow candidates to book online.
To allow easy sharing of content with social media sites like FaceBook, Twitter and Google Plus.
Security was never to be compromised.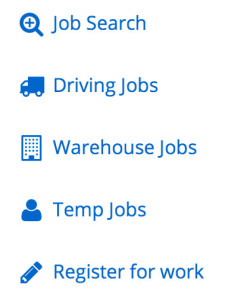 We knew that WordPress would be a perfect fit for their CMS requirements. We set to work and designed and built a bespoke website built using the Genesis WordPress Framework.
Using high-resolution display friendly icons and other graphics where we could to make sure the site looked good, on Retina displays as well as more modest screens. We also coded some animations which add a level of interest but more importantly highlight the calls to action.
Overall we are happy and we know that Drivers are delighted with the results. We have had people signing up during our beta testing and while the DNS was busy updating. So we are confident that this website will deliver great results for Drivers Ltd. Again we chose to host this with WP Engine. Security and speed are always important. So WP Engine's WordPress expertise and UK based server location made them the perfect host, once again for our WordPress clients. The staging server will prove invaluable as we continue to work with and refine Drivers new website over the coming months.